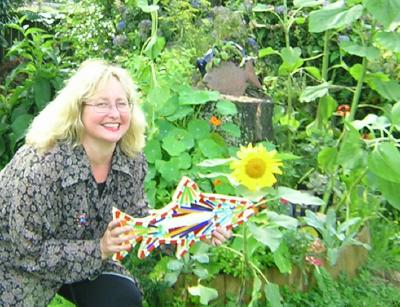 Welcome to Janet Keen's art mosaic workshop, organic garden and gallery in the central North island volcanic city of Rotorua, New Zealand.
Janet's art mosaic garden is on the slopes of dormant volcano, Mount Ngongotaha. It is next door to a native bush sanctuary. Native birds are frequent visitors.
Janet has recently expanded her art mosaic garden to include a fishpond that contains a green and gold bellfrog as well as sixteen goldfish who have had their second lot of offspring.
Janet is putting in a native bush walk and mini bird sanctuary area on the lower level of her art mosaic garden where new mosaic murals, mosaic pavers, mosaic concrete sculptures will be appearing.
Janet teaches mosaics and conducts mosaic demonstrations for visitors New Zealand wide and overseas in her recently expanded studio.
Janet Keen Art Mosaic and Fine Art Classes include:
Acrylic and water colour painting and mixed media art classes for beginners through to advanced pupils.
Monday after school art and mosaic classes.
Monday morning adults Art Mosaic making workshops
Group bookings can be arranged for a minimum of 6 people for weekends by arrangement.
Janet welcomes inquiries from adults and children who are interested in visiting her mosaic garden, viewing a mosaic demonstration or booking a group mosaic or painting workshop.
Please ring first on 07 3463435 (Rotorua) to arrange a time. There is an admission charge for mosaic garden viewing and mosaic making demonstrations.
374 Clayton Road, Rotorua (On the way to Paradise Valley Springs), Bay of Plenty, New Zealand.
Janet is a School and community art mosaic mural making expert. She welcomes inquiries from all community groups and schools in the North Island of New Zealand.
Just email janet@jkeen.net or locals can txt to 0273513887
Please drop in to my blog

to read my dailythoughts on Creativity
Follow me on Facebook